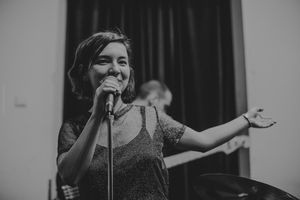 Welcome to my website! I am Marta and I had my first contact with singing when I was 4 years old. During my childhood, I took part in numerous children's competitions until the age of 11, so I became comfortable with being on stage. I grew up in a non-musical environment, which shaped me and encouraged me to follow other passions as well, such as reading and writing about anything from history to religion, psychology and philosophy. At the end of my high school studies, I decided to follow the path of formal studies in jazz music, at the National University of Music, Bucharest.   
At the moment, my main focus is developing my artistry and finding optimal ways to communicate it to my audience, as well as composing music for my band, Marta Popovici & On The Fly. Since 2019, we have become part of the young jazz scene in Romania and we played at festivals, performed in venues and took part in cultural projects such as ConnectArts and JamCircle.
I would like my music to encourage everyone to live life with awareness and brave curiosity towards all aspects of life. I like writing lyrics a lot. They highlight the important things for me, such as self-exploration and the process of creating a balanced inner life. I think we can all achieve that through art's cathartic powers.  
My musical influences come from jazz, soul, trip-hop, acid jazz, nu-jazz, alternative R&B, art-rock, art-pop and folk and generally, I am inspired by anything that feels like a beautifully crafted story.
Currently, I am researching the topic of storytelling in music while attending the New York Jazz Master Program of the Prince Claus Conservatory, The Netherlands. 
"For Marta Popovici & On The Fly, music means joy; it is one of the ways in which their inner universe is manifest and becomes relevant to our lives. When they play, they turn into a core that radiates and encompasses everyone around, and it is this mutually beneficial meeting that reinforces the strength and emotion on which they rely in their decision to carry on together on this path." - Maria Balabaș
Photo by Ioana-Teodora Raicu